Pampering at It's Finest...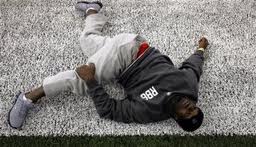 With day one under our belts, we decided we deserved a treat!  Ok, fine it was a half day…whatever.  What better than some Thai massages, good food and some beers? The B.F.F. (baby face Fitzgerald) and I left Joel and Mari to play with their new kitten (are you keeping Lady Boy?) and ventured down the road for some pampering.
Upon arrival we had our feet cleaned and headed into the massage room to change into our oh so cool outfits – think hippy pants and a doctor's scrub top.
Now, being the queen of pampering that I am, I've had a few massages in my day – Swedish, aromatherapy, hot stone – but nothing like this!  On a bed on the floor I was twisted, pushed, and pulled into every position imaginable and damn did it feel good!
The usual massage position is as follows:
However, this being an authentic Thai massage, I was not laying peacefully on a warm bed…it looked a little something like this:
Btw this TWO HOUR massage ran me 300 baht…which, translated back into USD, is $10.  Take that Red Door!